Best Exercise For Flabby Arms
The dreaded flabby arms.  Nobody I've ever met is a fan of the flabby arm syndrome.  While doing some research for this article I found out another common way of describing flabby arms is bat wings.  Wild.  I've primarily heard people not happy with flabby arms as the aging process starts to catch up.  The reality is flabby arms can happen to just about anybody.  When someone asked me last week what is the best exercise for flabby arms, I thought this would be a great time to write a post about it.  So let's take a look at what's the best exercise for flabby arms.
What Causes Flabby Arms
Most of the time the culprit behind flabby arms is excess fat.  We probably don't need to go into a lot of detail about how we gain excess fat. 
Many times this is caused by taking in more calories than are expended.  This is usually why people gain wait.  Simple math right?  Everybody has areas that the excess fat and weight will show up on.  For women many times it's the hips and thighs.  In men this is usually in the belly area and around the sides.  The good old love handles.  For many people the excess fat will show up on the arms, resulting in flabby arms.
Something else to keep in mind is this also happens along with the natural aging process.  After about the age 30 we have to work harder and harder to keep our bodies in the same shape.  Much of this is linked to the bodies ongoing aging but around the age of 30 many of us move into a more sedentary lifestyle.  This doesn't help.  Don't worry, we are getting to the best exercise for flabby arms soon.
Who Can Get Flabby Arms
Both men and women are susceptible to having flabby arms.  More women than men get flabby arms though and this is primarily due to lack of muscle tone.  Women generally have less muscle tone than men to begin with (not always but more often than not).  Then as the sedentary lifestyle starts to kick in women will tend to lose their muscle tone more quickly.
Age is also in play here for both males and females.  As we move the needle past 30 we lose muscle mass.  It happens naturally to our bodies and if we don't actively work to keep what muscle mass we have we lose 3% – 5% per decade.  The process of losing muscle mass as we age is called sarcopenia.
Now, let's get to the good stuff.  Let's take a look at the best exercise for flabby arms.
Best Exercise For Flabby Arms
There are actually numerous best exercises for flabby arms.  Let's look at some of the most effective.  This apply for both men and women. We will be looking at exercises which target the back of your arm, the triceps muscle.  The front of your arm is the biceps.  If you regularly work out with weight the triceps usually get plenty of work.  If you don't use weights on a regular basis you will have to target your triceps specifically to get rid of flabby arms.
Push-ups – Let's start with one you can do anywhere.  Push-ups are a great all around exercise.  They work out your chest, back, triceps,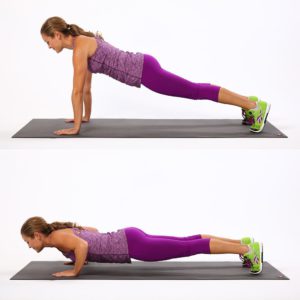 shoulders, and core.  Great all around exercise.
Triceps Press down – This are most easily done with a cable and pulley system with a rope at your gym.  If you don't use a gym you can also use resistance bands at home to achieve the same results.  I'll provide a great place to buy resistance bands in the next section on resources.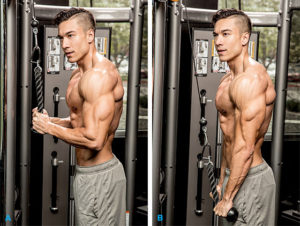 Triceps Kickback – With these you use dumb bells to perform the kickback.  Again, any gym is going to have a wide variety of dumb bells for your use.  You don't have to use much weight here at all.  As a matter of fact I worked out my triceps this morning and incorporated dumb bell kickbacks into my routine.  I used 15 pound dumb bells.  I did a slow motion and did 4 sets of 12 repetitions.  This will burn your triceps but good.  I usually use a bench as shown here but you don't have to.  You can also use resistance bands for this exercise as well.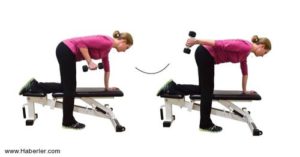 Several More Best Exercise For Flabby Arms
Let's look at a few more best exercise for flabby arms so you have a variety to choose from.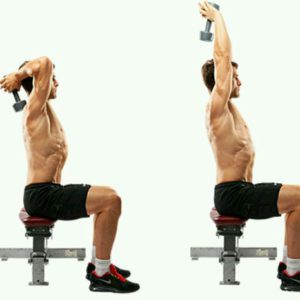 Seated triceps dumb bell extension – This is one of my personal favorites.  I like it because you can do it at home or at the gym.  You can use one dumb bell or two. You can do it seated (which I usually do) or you can do it standing.  Plus you can use a cable at the gym or resistance bands at home.  It's like a win win win win!
Skull Crusher – Okay, I put this one in here mostly because I love the name.  I employ this one in my triceps routine from time to time and it's a good one.  I typically do this one with an EZ curl bar since I have one at home but it's just as easy with dumb bells.  Here is what it looks like with dumb bells.  You need a bench for this one as well.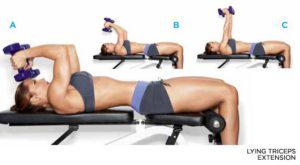 Don't Forget Diet
Doing exercise on a regular basis is critical to help with flabby arms.  We've reviewed several good options for toning up those flabby arms.  It's critical to mention something you already know.  You've got to compliment the hard work you are doing on toning your arms with the right fuel.  If you shovel in chips and ice cream and all kinds of processed food it's not going to help.  It will hinder your progress greatly.  I'm not saying you've got to get on one of those strict calorie counting diets but you've got to eat smart.  Fuel your body with the good food it needs to help you as you pick and work on those arms.  If you're going to do it might as well really do it.
Resources To Fight The Flabby Arms
First of all I'm going to list several links to a place called Power Systems.  I've purchased quite a bit of home workout equipment from them and have never been disappointed.  Click on the links to some of the tools here.  From there you can noodle around to other pages if you would prefer something different.
Resistance Tubing Kits – Great to use for a wide variety of exercises and certainly great for working on flabby arms.
Best Sellers – This will take you to the best sellers on Power Systems.
Dumb Bells – You simply can't go wrong with having some dumb bells at home for a really wide variety of exercises.
Now I will list several books that can help you in your quest to lose the flabby arms.  Reference material is always good.
The 15 Best Arm Toning Exercises For Women – By Rachel Howe.
Delavier's Anatomy For Bigger, Stronger Arms – By Frederic Delavier and Michael Gundill
Home Arm Workouts For Women – By Amber O'Connor
Lift and Repeat
We've reviewed not just one but numerous best exercise for flabby arms.  There's plenty more you can do if you want to fight the bat wings.  If you are interested in doing one or several of the best exercise for flabby arms I suggest grabbing one of the books I've listed (or another one you like) and either hitting the gym or getting some of the equipment at Power Systems.
Once you do that it's time to get to work.  Those bat wings aren't going to shrink themselves.
Let's get toning!
Mat A.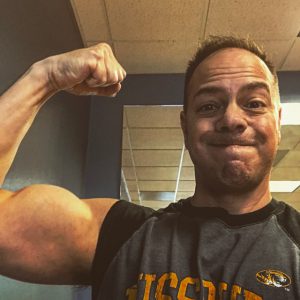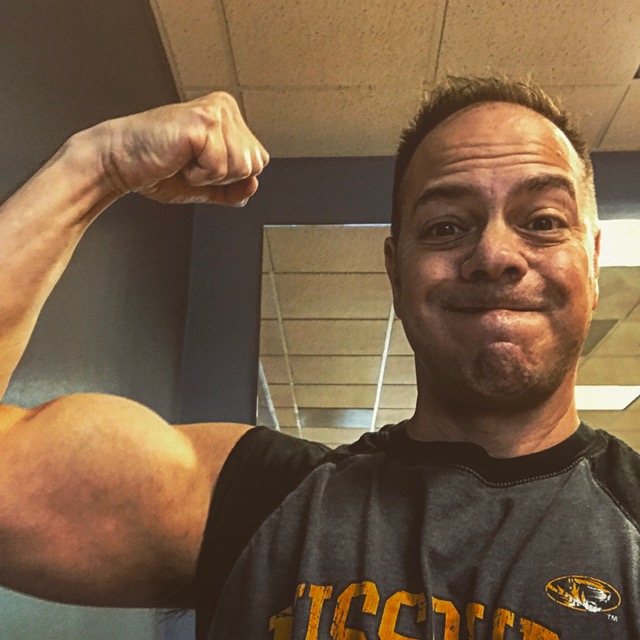 Please follow and like us: