How To Iron A Suit
Looking your best is crucial when you're in a professional environment. This is everything from having your hair combed to making sure your clothes are in the best shape too. Walking into a meeting with a wrinkled t-shirt and jeans just isn't an option for many of us. For both men and women, choosing to wear a suit is many times the best way to make sure you're looking both good and professional.  Which brings us to how to iron a suit. 
What happens when a suit gets wrinkles in it? Right before the big interview you've been looking forward to for weeks, you find that your suit has some major wrinkles in it. It might feel like the world is ending for you, but trust me, there's some easy fixes as long as you're prepared.  Let's look at several ways of how to iron a suit. 
Use A Steamer
Now while this may seem like a way that's not as popular, it's actually quite effective. You have to ensure you're careful though, as you could burn your skin, your suit, and virtually anything else in the room. Steamers can be more handy as you can take a smaller sized one with you when you're on the road and away from home. It makes it a lot easier than trying to bring an entire iron.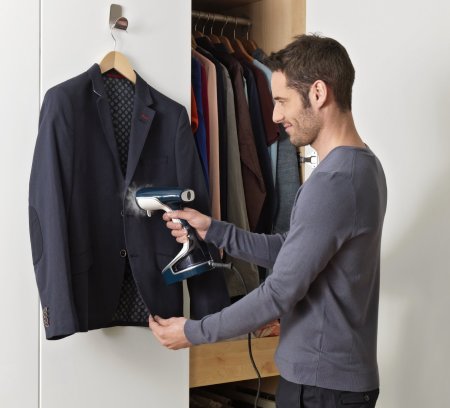 What you need to make sure of first is that your clothes are clean and washed. If they're dirty, have stains, or anything else, this can make it much harder to get them out in the future. So, if you can make sure your suit is clean, or at least do your best to make sure it doesn't get dirty. You also need distilled water as well to ensure that there won't be a buildup on the steamer from sediment in tap water.
From there, it's pretty basic. Simply hang up the clothes you wish to steam, and then start slowly moving the steamer up and down over your clothes. Make sure you don't go too slow though, as a steamer is just like an iron and can burn your clothes too. If you find a steamer isn't working on your wrinkles, you may need to try something more powerful.
iSteam Steamer For Clothes – by iSteam
Kimryde Portable Steamer For Clothes – by Kimryde
PurSteam Elite Garment Steamer – by PurSteam
Iron Your Suit
Ironing your suit is the most common way to rid it of wrinkles, and for good reason. While trying to bring an iron with you on the road may be a tad bit difficult, it's always good to have one at home and use it. I've found in my travels that virtually every hotel has irons.  As said with the steamer, and iron is very hot, so use caution with your suit and your surroundings. You wouldn't want burn marks left somewhere.
Preparing for using an iron is relatively the same. Clean suit, distilled water, but you'll also need an ironing board as well. With that, you'll need a pressing cloth too. Since suits are made from much more delicate material than regular clothing, it may be more easily damaged by using an iron. A pressing cloth can be a simple piece of cloth between the iron and your jacket, a handkerchief works perfectly.
There's an important rule to follow when it comes to ironing your clothes. First, you should always be checking the tags of your clothes so you know just exactly what you're dealing with. From there, the rule is that synthetic fabrics can usually only withstand low heat. They're much more easy to damage with heat, so you'll want to keep it low. For wools, which can also easily be burned, low to medium is a good range to stay within. Linens and cottons cannot be burned as easily, so it's recommended that you use high heat for those materials.
Now that you're all set and you know what material you're dealing with, you're on to the actual ironing. When it comes to ironing itself, there's actually two different methods you can (and should!) use.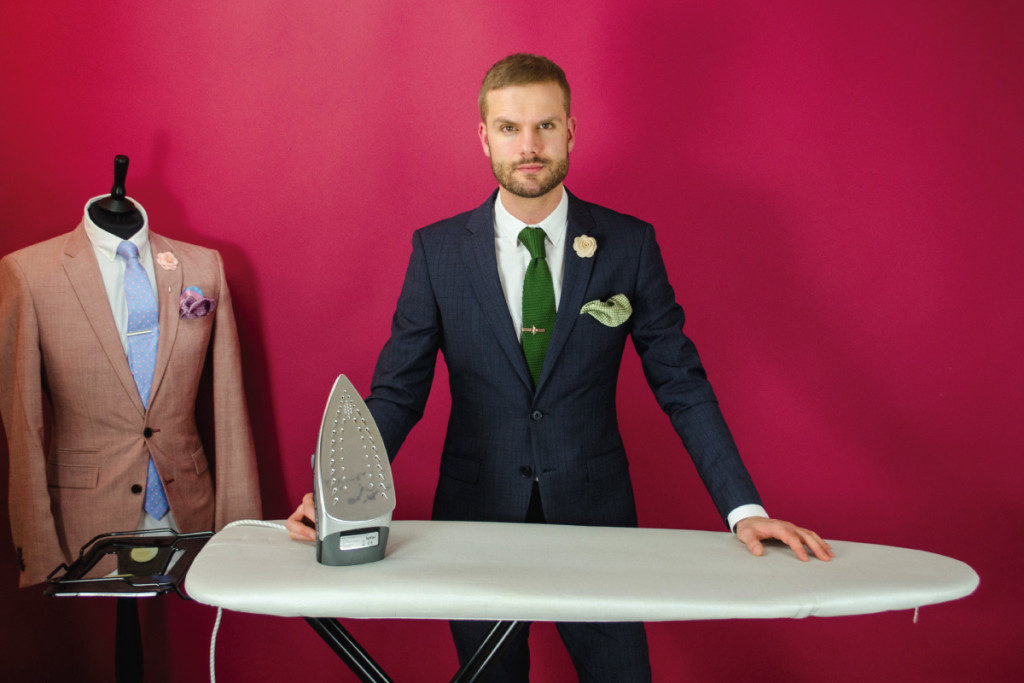 Sliding Method
If you're ironing your dress shirt, or really any other piece of clothing for that matter, you'll want to slide the iron across the fabric. You'll be ironing out the wrinkles, and it'll make life a lot easier. Make sure that your piece of clothing isn't made from a material such as wool, because this type of clothing is much easier to damage especially with the sliding method. The sliding method is best for linen and cotton, as they're already not as susceptible to burning.
Pressing Method
When you're going to be ironing your suit, which could be made from a wool, you'll want to grab that handkerchief that I mentioned before. Instead of sliding, you'll want to place your handkerchief on the part of your suit that needs ironing. From there, simply press the iron down for a few moments and then take it off. It's a delicate process to ensure you don't damage your suit, but it's most definitely worth it to get those wrinkles out.
For women, if you have a skirt, it might be a bit more time consuming but that's alright. With a pleated skirt, you'll want to pay close attention to each pleat so you can ensure that you're not creating more wrinkles and making the skirt lose its shape. Some skirts may be made of more sensitive material, so always make sure you check first so that your clothes don't burn.
That's it! It doesn't take too much work to iron your suit, as long as you know what you're doing and you do it right. Whether you prefer to use a steamer or an iron, you can be assured that wrinkles will come right out of your clothes. A key thing to remember when it comes to ironing and steaming is that it's always important to check the tags to see what fabric you're working with. While some may be able to withstand the heat, others may melt under it. As long as you remember to check and remember the rule, then you'll be set for ironing and steaming in the future.
Rowenta DW5080 Focus Steam Iron – by Rowenta
Maytag M400 Speed Heat Iron – by Maytag
Black + Decker Classic Steam Iron – by Black + Decker
Dry Cleaners
You can also utilize my favorite method which is the dry cleaners.  When I take my suit in to get laundered and pressed it's about $20.  I have taken just my jacket in many times to simply get ironed and it's $8.  Well worth the money for a professional job.
Conclusion
There are multiple ways of how to iron a suit.  If you are comfortable with an iron it will do a fine job on an as needed basis.  A steamer works just as well.  I don't have as much experience with one but am going to pick one up as another alternative.  Finally if you've got the time a dry cleaners will typically do a solid job.
To looking sharp!
Mat A.
Please follow and like us: