Hard Work Pays Off Quotes
Don't worry.  I'm not going to simply list off a bunch of hard work pays off quotes.  I am going to write some actual content instead of posting a bunch of quotes.  But to be clear, I will also post some quotes.  The goal of the quotes of course it to help inspire.  Most mornings I jump on my stationary bike for 20-30 minutes right after I wake up.  You can laugh at this next part all you want, won't bother me a bit.  There are a fair number of those mornings when I watch a motivational video on YouTube.  I keep them short, usually 3-8 minutes.  Just enough to get me rolling and ready to face the day.  As you might imagine some of those contain hard work pays off quotes.  With that, let's dive right in.
Should I Work Hard
That's a great question.  In my opinion I or you or whoever should work hard in most of what we do.  Let me clarify that a bit.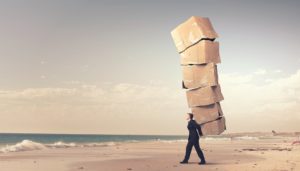 Life is full of stuff we don't really want to do.  Things like laundry, mowing the yard, paying bills, going grocery shopping, etc.  These are the tasks we all need to do to keep the wheels of life moving forward.  In other words, adulting.  Something I'm having a lot of conversations about with my 19 year old daughter lately.  The one that bought a puppy.  To keep in her dorm room.  That doesn't allow dogs.  You get the drift.
Life is also full of other stuff that we sometimes want to do like work or always want to do like watch football.  Basically things that we have to do all the way to things that we want to do.  These all comprise the areas of our lives.
The trick is to figure out WHAT IS IMPORTANT TO YOU.  Once you identify those, you've then figured out what you should work hard at.  This is not always as easy as it sounds.  We get swept up in daily grind of life.  Many times we become husbands and fathers.  We build careers.  it becomes easy to lose our friendships from the past.  We take our kids to practice and have to pretend we know what we are doing as parents.  In short, life happens.  We lose track of what's important.
Area's Where You Should Work Hard
Right off the bat let me say this is my opinion.  My blog, my opinion.  I've mentioned in a few other posts that it is critical to find out what is important to you.  Once you figure out what is important then PUT A PRIORITY on those things.  It's not always easy identifying what is important to you.  It takes some serious mental energy sometimes but the results and well worth it.  If you need some help I stole the concept from a fantastic book that seriously opened my eyes in a couple of key areas.  It's called "Feel The Fear…And Do It Anyway" by Susan Jeffers.  It is a wonderful book that I highly recommend.  It will provide you with some great new tools and ways about thinking to help you in your next big decision.
One of the primary concepts in the book is the 9 box.  This is where you put the important things in your life.  Yours could be a 4 box or even a 12 box, doesn't really matter.  What matters is that you identify what is important to you.  Once you do that you put consistent effort and HARD WORK into the boxes that aren't where you want them to be.  This is a great way to lead a balanced life putting time and energy into the things you identify as important to your happiness.
Suggested Areas To Work Hard
So when I went through the exercise of identifying what is important to me I had it broken down as follows.  To me, this is the area's that are important in my life.  Having these area's functioning a high level are what make me feel I am living a complete and fulfilling life.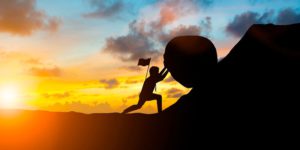 Physical health – I've said it before and I'll say it again.  Having your physical health is super important.  Think about how much life sucks when you are sick.  Stay on top of this.
Mental health – Just as important as physical health.  Being physically and mentally "fit" will make all other areas of your life flow so much better.
Marriage or long term relationship – For me having a fulfilling marriage is important.  I read a quote once that says "Marry the right person.  This one decision will determine 90% of your happiness or misery".  If your marriage sucks, decide to try to fix it or end it.  Don't stay stuck in a relationship that sucks your soul dry.  Life's too short for that.
Career – I'm not stating you have to work your way up the corporate ladder.  Do what fulfills you and is worthy of your time and pays you enough to take care of your business.  Enough said.  And don't worry, pretty soon I will be getting to the hard work pays off quotes!
Further Suggested Areas To Work Hard In
Relationship with my daughters – I feel strongly about this.  It is super important to me to have a really good relationship with my daughters.  We don't always like each other but I want them to know I will always be there for them.  They can count on me.
Friend relationships – As men become husbands and fathers it's easy to lose track of our friends.  It is sure easy for me.  This is an area I have to pay attention to because if I don't I can go 6 months without having a beer with a friend.  Friendships are very important.
Family relationships – Are you sensing a theme here for me?  Relationships are very important to me.  I try to maintain a solid relationship with all of my family members.
Self-improvement – One of my friends once said to me the thing he had always admired about me was that I was always looking to improve myself.  And that's true.  To me it's important to always be looking for ways to get better.  Might be my workout or better at my job or learning a new skill.  It's important to me.  It makes me feel good when I am trying to get better at various areas of my life.
You Shouldn't Work As Hard Here – In My Opinion
I promise, right after this will be some hard work pays off quotes.  Here is where I don't feel the need to work as hard.
I thought about listing a bunch of stuff here like cleaning the house or going grocery shopping.  Then I decided that was boring.  Let me just sum it up by saying that I don't feel it's important to work hard with the mundane activities of life.  You know, they things that make you feel like you're on a hamster wheel all the time?  Stuff like cleaning the house or doing the laundry.  Taking care of the yard or going to the grocery store.  Making sure that my house looks like nobody lives in it when people come over for a visit.
I don't care about that stuff much.  Look, I know it needs to be done and I'll do it – or find someone to do it for me.  But to me it's simply not worth working hard and spending a lot of my time there.  Why?  Because it doesn't bring me happiness and fulfillment.
Hard Work Pays Off Quotes
You've waited this long so here it is – hard work pays off quotes.  Finally!
Today's tears water tomorrow's gardens – Matshona Dhliwayo
What is love?  Love is playing every game like it's your last – Michael Jordan
A dream doesn't become reality through magic; it takes sweat, determination, and hard work – Colin Powell
There is no substitute for hard work.  Never give up.  Don't stop believing.  Never stop fighting – Hope Hicks
Opportunities are usually disguised as hard work, so most people don't recognize them – Ann Landers
Talent is cheaper than table salt.  What separates the talented individual from the successful one is a lot of hard work – Stephen King
It's not about money or connections – it's the willingness to outwork and outlearn everyone – Mark Cuban
To achieve what 1% of the population has, you must be willing to do what only 1% dares to do – Manoj Arora
No matter how hard you work, someone is always working harder – Elon Musk
Nothing in life that is worth anything is easy – Barack Obama
Success at anything will always come down to this: focus and effort.  And we control both – Dwayne (The Rock) Johnson
Destiny if for losers.  It's just a stupid excuse to wait for things to happen instead of making them happen – Blair Waldorf
It's hard to beat a person who never gives up – Babe Ruth
No one ever drowned in sweat – US Marine Corp.
I've failed over and over again in life – and that is why I succeed – Michael Jordan
Things may come to those who wait, but only the things left by those that hustle – Abraham Lincoln
Genius is 1% inspiration and 99% perspiration – Thomas Edison
It's not whether you get knocked down; it's whether you get up – Vince Lombardi
If people know how hard I worked to achieve my mastery, it wouldn't seem so wonderful at all – Michelangelo
You're never a loser until you quit trying – Mike Ditka
Resources for Working Hard
If you need some further inspiration to work hard at the thing that are important, check out a few of these.
Impactivity:  What if You're Working Hard At All The Wrong Things? – by Tracy Higley
The Hard Hat For Kids:  A Story About 10 Ways To Be a Great Teammate – by Jon Gordon
I Work Hard So My Dog Can Have a Better Life T-Shirt – Good Stuff
Starting Your Own Business, Sixth Edition:  The Only Startup Book You'll Ever Need – by The Staff of Entrepreneur Media
The Daily Book of Positive Quotations – by Jessica Picone
Hard Work Never Hurt Anyone But Why Risk It Funny T-shirt 
Conclusion
I hope you've enjoyed a few of the hard work pays off quotes along with my meandering thoughts.  Hard work is important.
Just make sure you're working hard on the important things.
Let's go,
Mat A.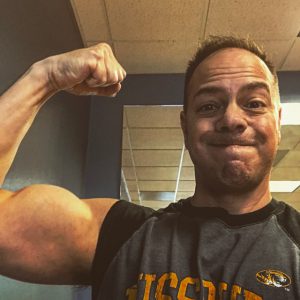 Please follow and like us: