It can be difficult finding comfortable dress shoes. When I am out shopping for new shoes I have a hard enough time finding shoes I think look good. Then when I put them on about 7 times out of 10 they are pretty darn uncomfortable. So finding a good combination of style and comfort can be a tough task at best. I see guys wearing very stylish shoes that don't look very comfortable. And I see guys wearing super comfy looking shoes that don't look stylish at all. So can find some options that somehow merge the best of both worlds? Of course we can! Let's look at some of the most comfortable dress shoes for men.
My Situation
So I started a new role at a new company early this year. The cool thing is I work from home most of the time. I travel for work about every 3-4 weeks but in general I work from home. When I travel I go to Chicago quite a bit but also other office locations. The weeks when I travel as you might imagine I tend to dress up more. Typically outfits like casual suits. And with the casual suits I wear dressier shoes. But when I am at home I dress very comfortably. Like this summer I've been wearing shorts and tank tops most days. And my shoe of choice is either nothing or Birkenstocks. So my first choice of the most comfortable dress shoes for men is Birkenstock. The Arizona is my favorite.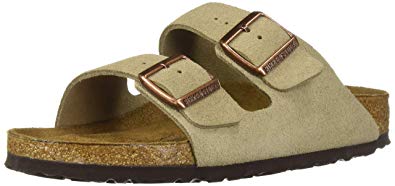 Birkenstock Arizona for men – By Birkenstock
Office Setting
Okay so most people don't work in a home office. If you are looking for other options for most comfortable dress shoes for men here's some other options.
La Milano Men's Double Monk Strap Slip On
These are quite sleek looking. And they slip on! You can easily wear these in and out of the office. The padded insole and stacked heel make it easy to wear them all day long and into the evening. And to top it all off the come in 7 varieties. I absolutely love the look of these.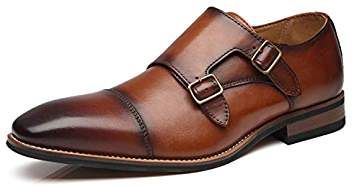 La Milano Men's Double Strap Slip On Loafer – by La Milano
Rockport Essential Details Waterproof Wingtip
In my opinion Rockport are classy and solid shoes. They tend to look pretty darn good and are well built. These beauties are extremely comfortable as well. They use something called sport technology in the heel for shock absorption. You can get these in the always classy black as well as a nice burgundy. Another cool things is these are $100.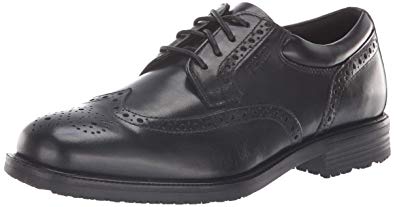 Rockport Men's Essential Details Waterproof Wingtip Oxford Shoe
Dockers Edson Slip On
These are the least expensive pair of shoes here. They are also one of my favorites. I have had a pair of these ongoing for over 10 years now. They look good in most situations and are about as comfortable as it gets. If you want style and comfort and want to dip your toe with something less expensive I suggest these.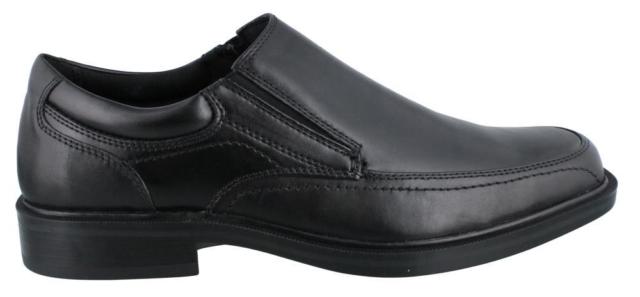 Clarks Men's Tilden Cap Oxford Shoe
Another great less expensive choice. Clarks has been around since 1825 and has always made high quality shoes. The antique type looks is total high class and the full grain uppers are designed to last a good long time. The rubber outsoles of these shoes are durable and flexible, making them a very comfortable and stylish choice of dress footwear.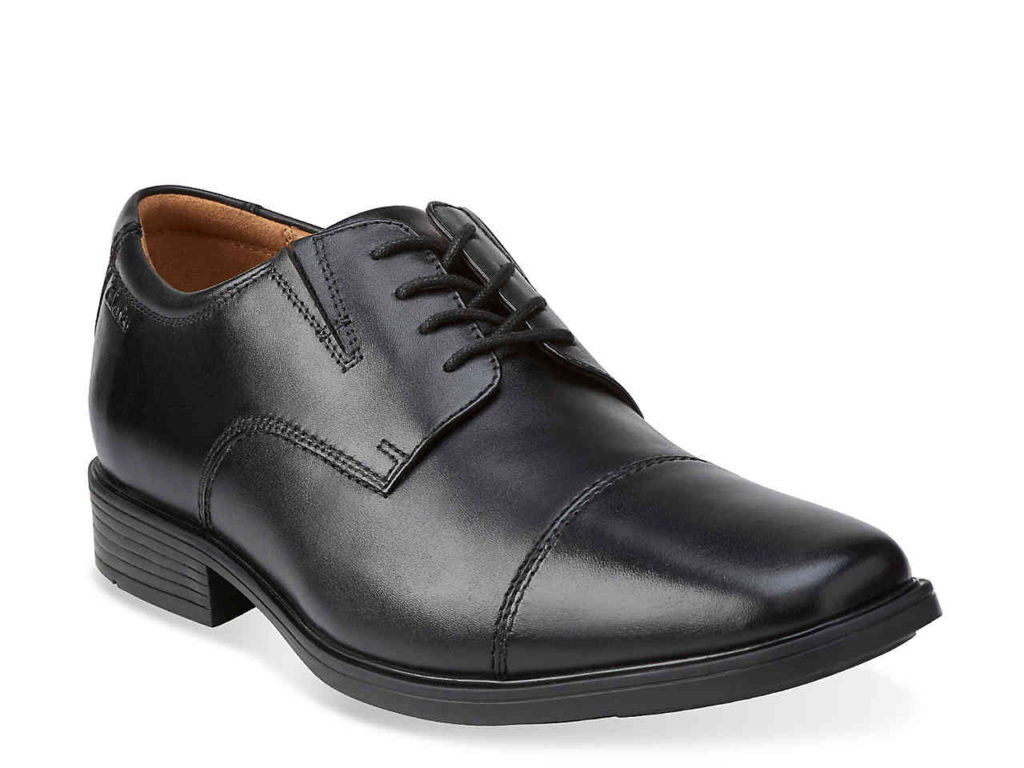 Clarks Men's Tilden Cap Oxford Shoe
Stacy Adams Men's Dunbar-Wingtip Oxford
Talk about a good looking dress shoe! These babies are beautiful and super comfy. It's made from antique leather and will last a long time. They have an excellently cushioned footbed for continued comfort and ease on your feet. Even better it has a breathable interior so your feet don't get overheated, they feel fresh throughout the day or evening. They also have a padded footstep which I absolutely love.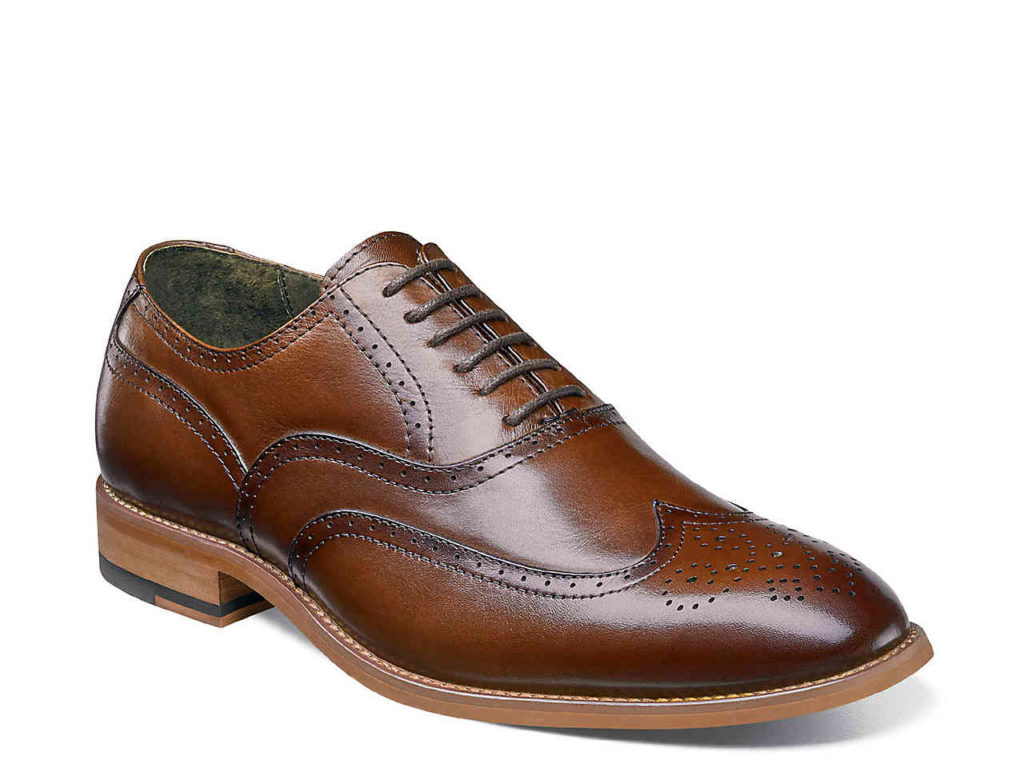 Stacy Adams Men's Dunbar-Wingtip Lace Up Oxford
Allen Edmonds Park Avenue Cap Toe Oxford
These really share that timeless classic oxford look. And of course the reason they are on this list is because they are incredibly comfortable. The price tag is a little higher than most of the shoes on this list but if you're up for spending north of $100 for a pair of great dress shoes that will last a long time consider these. As they say, you get what you pay for. Shoes are one of those things I feel it's definitely worth investing in. They have a corked footbed that conform to your foot over time, making them exceptionally comfortable.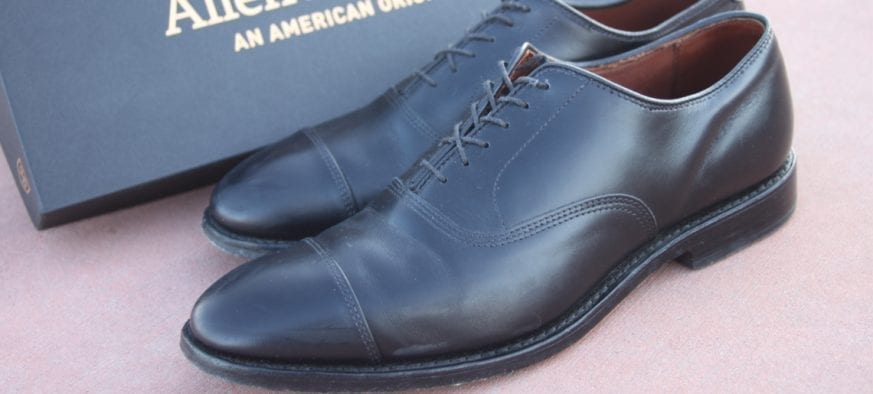 Allen Edmonds Men's Park Avenue Cap Toe Oxford
Florsheim Men's Sabato Double Monk Strap Oxford
Some people aren't big fans of the double monk strap. They are for the folks who are a bit more adventurous. I have one pair and these are them. And they are quite comfortable. I don't have to tell you that Florsheim is a long standing, well respected company that has made quality footwear for many years. They've earned their stripes. They have a fully cushioned footbed, flexible sole and a breathable leather upper. Take a look at this high quality, comfortable yet sporty shoe.

Florsheim Men's Sabato Double Monk Strap Oxford
Conclusion
There you go fellas. 8 of the most comfortable dress shoes for men. And yes I know, the Birkenstock's really don't count. That being said if you get to work from home like I do much of the time they make a fine, comfortable shoe for the "office". Any of the other shoes mentioned here are both super comfortable and extremely sylish. And most of them are pretty friendly on your wallet. If you are looking to upgrade your shoe department in both the style and comfort area's, take a look at these beauties.
In good style,
Mat A.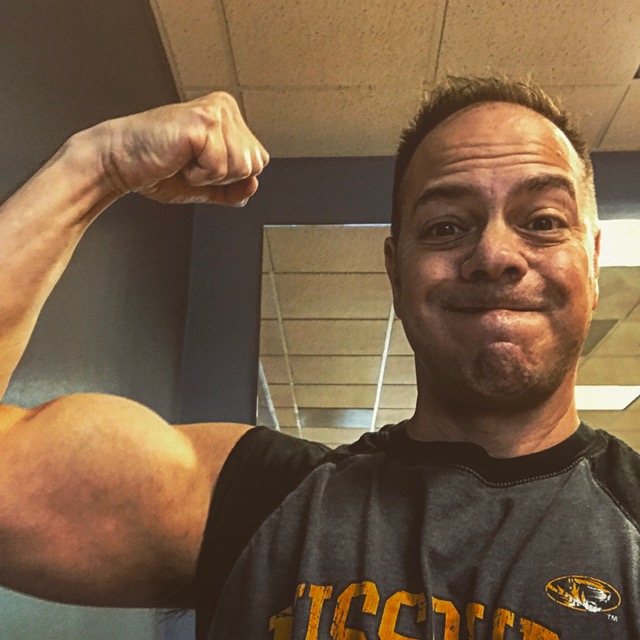 Please follow and like us: