Positive Monday Quotes
Today is Monday.  I got up about 15 minutes later than I had planned on but whatever, no big deal.  I still put on my workout clothes and shambled downstairs to the kitchen.  Then I refilled my water and grabbed my phone and headed to the basement to ride my stationary bike.  I'm a bit obsessed, I ride my stationary bike almost every morning for 20-30 minutes.  I've done it for so many years it's hard to not imagine starting my day like that.  But let me tell you, I was dragging this morning!  As I cued up YouTube to find some inspiration I came across a really nice motivation video and it got me going.  Which made me think, there has got to be some positive Monday quotes.
Monday's Get A Bad Rap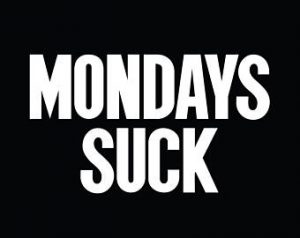 Anyone scrolling through their Facebook or Instagram feed all bleary-eyed over a cup of coffee Monday morning knows the Monday blahs.  Everybody bashes Mondays.  The weekends aren't long enough.  It felt like Friday was just here.  I dread Sunday nights because all I can think about is going to work on Monday.  It's built into the media about much extra coffee you're going to need to slog through Monday.  I know many people who try to schedule as little as possible on Mondays because they don't think they will feel like dealing with anything that day.
Why is it that Monday's get such a bad reputation?
Monday's Meaning
I think the reason many people dislike Monday so much is not that they actually hate that day.  It's more for the reason of what the day REPRESENTS.  What Monday's represents to many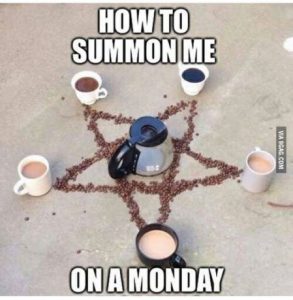 people is the beginning of the grind it out cycle.  It's the beginning of the "I gotta work to pay the bills" cycle.  This is the the Monday – Friday get up and go to work to pay for stuff type mentality.  Then come Friday afternoon the whistle blows Fred Flintstone style and yabba dabba do…..time for the weekend!  And the weekend is the release from all the pressure of working to pay the bills.  Lather, rinse, repeat.  It's imbalanced.
If you feel like you work for the weekend Monday's will always be something you dread.  They will always represent something you don't like.  To combat this one good strategy is to really enjoy what you do for work.  If you enjoy what you do for work you won't dread going to do it come Monday morning.  Besides doing what you love for a living there are positive Monday quotes and ways to get you thinking about Monday a different way.
Positive Monday Quotes
"Find a job you like and you will add 5 days to every week" – H. Jackson Brown
"The more I want to get something done, the less I call it work" – Richard Bach
"If you work just for money, you'll never make it, but if you love what you're doing, success will be yours" – Ray Croc
"Build your own dreams or someone will hire you to build theirs" – Farrah Gray
"If your ship doesn't come in, swim out to meet it" – Jonathan Winters
"A year from now you may wish you had started today" – Karen Lamb
"If we all did things we are capable of doing, we would literally astound ourselves" – Thomas Edison
"Someday is not a day of the week" – Janet Daily
"Don't count the days, make the days count" – Mohammed Ali
"Believe you can and you're halfway there" – Theodore Roosevelt
More Positive Monday Quotes
"Nothing can stop the man with the right mental attitude from achieving his goal.  Nothing on earth can help the man with the wrong attitude" – Thomas Jefferson
"Success is the sum of small efforts repeated day in and day out" – Robert Collier
"If everything seems under control you're not going fast enough" – Mario Andretti
"Your imagination is your preview of life's coming attractions" – Albert Enstein
"I would rather die of passion than of boredom" – Emile Zola
"If you don't design your own life plan, chances are you'll fall into someone else's plan and guess what they have planned for you?  Not much" – Jim Rohn
"I haven't failed.  I've just found 10,000 ways that don't work" – Thomas Edison
"Fall 7 times, stand up 8" – Japanese proverb
"People rarely succeed unless they are having fun at what they are doing" – Dale Carnegie
"The question isn't who is going to let me it's who is going to stop me" – Ayn Rand
A Little More To Consider
Re-calibrate your thinking towards Mondays.  Instead of it being the dreaded start of "work to pay bills, pay bills to live" cycle, think of it as a fresh start.  Every Monday gives you a chance to start anew.  To go out and rock it.  You can revive what you want to make happen in your life.  If the week before didn't bring you the results and awesomeness you wanted, Monday gives you a chance to do it again.  Think of Monday's as your opportunity to continue to pursue what you want.  You have the chance to look at what you are working towards in a different way, a fresh start and chance to go get it.
Something I've gotten into the habit of over the years is planning for my upcoming week on Sunday evening.  It takes me 5-10 minutes to map out a general plan for the week ahead.  I then put various "to do" items throughout the week to help me achieve what I want that week.  If I am going to workout 4 times the upcoming week, I look at my calendar and future plan the days to work out.  I might have a big project I'm working on so I'll block the time needed to make that happen.  My oldest daughter will be moving back to college in a few weeks so I've got that day marked and blocked on the calendar.  Because that's what dads are for, right?
Take control of your Monday instead of dreading it.  If you pro-actively plan for what you want to accomplish on Monday you get the week off to a great start.  This will allow you to feel like you are making Monday's work for you instead of running from them.
Wrap Up
Most people really dislike Monday's.  If this is the case it means you aren't enjoying what you do on Monday's so maybe it's time to re-evaluate that.  Use Monday's as a chance to kick-start your week to propel you towards the things you want.  Furthering your career, working on an exciting new project, hammering out a great workout, whatever the case may be.
Re-calibrate the way you think about Monday's.  Use some of the positive Monday quote's here to help adjust your thinking.  If you need something handy to help you motivate your Monday's here's a few suggestions:
Motivational Mondays: Inspirational Quotes and Questions to Start Your Week in the Right Direction – Christine Morgan
Motivation Monday (Volume 1) – Bennett J Tanton and Eddie Lazzari
Learning To Love Your Mondays – Darryl Rivers
All of these can help you look at your Monday's in a more positive light.
Here's to a new week,
Mat A.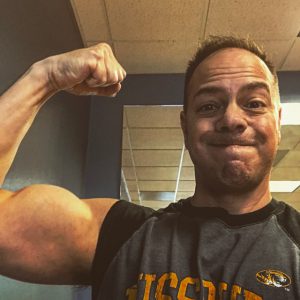 Please follow and like us: