Why Don't People Like Me
Boy oh boy, if that's a question you're asking yourself it must be a bad day.  Or maybe it's how you feel all the time but I hope not.  Most days I feel like at least some people like me but like everyone else, I have crappy days too.  I can certainly have my days when it feels like everything conspires against me and nobody likes me.  One sure thing about life, it's up and it's down.  Can't have one without the other.  Hopefully today has been a bad day and that's why you're asking yourself why don't people like me.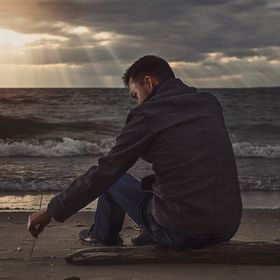 At my core I am an optimistic person.  I can almost always see some good in any situation.  If something doesn't work out like I'd hoped, I've learned that there's usually a reason why.  I don't always understand it but typically it's for a reason.  When I look back at the bad things that have happened in my life, normally something good has come out of them.  I've either moved on to something better or I've evolved as a person.  I've learned that it's okay to feel down because that makes the "ups" even better.  Things can't always be happy and going great, life doesn't work that way.  You have to accept and work with the roller coaster of life.
One of the things I've embraced as I've gotten older and wiser is I don't really care if people like me.  Now if my daughters or wife always didn't like me that would suck.  If my bosses at work didn't like me EVER I probably wouldn't have a job.  But I do have periods (on a fairly regular basis) where the people in my life don't like me as much.  My household thinks I'm selfish or I'm not bringing in as many prospects as my bosses would like.  In the long term it works out though.
If you consistently are asking yourself why don't people like me, that's something deeper.  Let's look at why you might be asking yourself this questions and more importantly, what you can do about it.
My Glass is 1/2 Empty…..Always
Pretty funny don't you think?  I was just talking about how we all have to realize that life is always going to be up and down and here I am talking about the glass 1/2 empty.  Nobody is saying you've got to be Susie Sunshine all the time.  The flip side of that is if you are Debbie Downer most of your days, people are going to avoid you.  If you are constantly crackling with negative energy and talking about bad crap incessantly, people aren't going to like you.
This one is actually interesting because a lot of people who have negative things come out of there mouth actually aren't negative people.  It's just easier to bitch about stuff.  The President, the weather, your job, your headache.  Do yourself a favor and watch what comes spilling out of your pie hole.  If it's going to be negative, rethink if you need to say it.
Your Ears Don't Work
More precisely, you don't use your ears much.  I've had a few friends who seem to think that a conversation should be one-sided for some reason.  They are great talkers, the problem is they only talk about themselves.  Ever have that friend that when you finally get a word in edgewise they just look at you with a blank stare?  Then they go right back to talking about themselves in some form or another?  Don't be this person.
This particular trait seems to have most of it's origins in how someone was raised.  They had to speak loudly and often in order to get noticed in their family.  If you identify with this particular trait you can overcome it but it takes hard work.  Patience is a virtue.  Remind yourself that you learn more by listening than talking.
You Are Selfish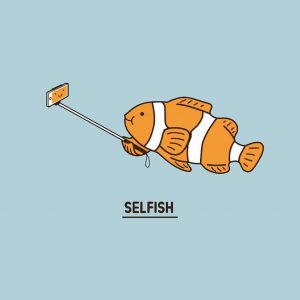 Look, being selfish is okay……to a degree.  I advocate being selfish in the manner to get your needs met.  If you don't ask for and go after what you want, you will never receive.  It's okay to be selfish sometimes but not all the time.  When you are selfish all the time people will not want to be around you much, much less like you.  Imagine that you are the person that always takes but never gives.  Nobody got time for that.
All of life is a compromise to a degree.  You have to give of yourself genuinely and it comes across as real.  It also feels good to give of yourself when you want to.  If you find that you are always asking for things but never offering, it's time to revisit that.  If you always take eventually no one will be around to take from.
You Show Up When You Need Something
Ever have one of those friends that disappears for long stretches of time?  Calls and texts go unanswered for weeks then all of a sudden they seem to appear out of nowhere?  When they appear back in your life they always seem to want something?  A ride to work, a few bucks for the weekend, an invitation to that party you're attending, etc.?  This type of person is pretty similar to the selfish person, it's all about them.
This type of person makes you feel like you're being used, that you're only there to provide something to them.  If you are this type of person, just stop.  Nobody likes you and now you know why.  This is like the egocentric teenager who thinks the world revolves around them and people exist to do things for them.  Don't regress back to your teenage years.
You Know Everything – In Your Own Mind
I shouldn't even have to cover this one but I'm going to because it's actually kind of common.  If you are the type of person who proclaims they know everything the second it comes out of everyone's mouth, nobody is going to like being around you.  If you know a lot of stuff, that's awesome, you don't always have to make sure everyone knows it.  Truth be told there's a lot to be said about humility.
People that come across like they know everything put off an air of self righteousness.  As in there's no reason for you to be talking because they already know it, you're wasting their time.  I'd be shocked if you really did know everything but if you do, would it hurt you to keep your trap shut about it?
You Don't Do What You Say You're Going To
Know what I seriously hate in business?  When someone tells me they're going to do something and they don't.  My house developed a leak inside the garage recently whenever it would rain heavy.  I contacted the company that replaced the roof a few years back.  After about 10 emails and 10 calls they agreed to fix the leak.  I kid you not, it took another 2 months, 27 emails, and 14 phone calls before they finally showed up and did what they said they would.  The only reason it happened was because I was mercilessly persistent.
People who operate in a similar manner don't have many friends.  The reason being is they don't do what they say they are going to do.  Look, it's easy to say "yes, I'll do it" but you're doing everyone a disservice if you don't follow through.  Learn the power of the word "No" and only agree to things you can honestly commit to.
You Can't Say You're Sorry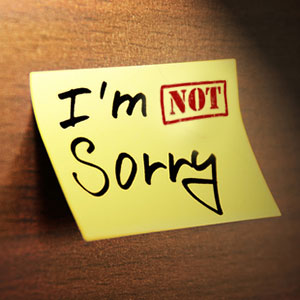 Some people have a really hard time saying they are sorry.  Some people seem to not even know the concept of saying they are sorry.  From what I have read much of this seems to stem from feeling like it's a sign of weakness.  Like saying "I'm sorry" somehow makes you a weak person.  From everything I've read about, the ability to apologize and say you're sorry is actually seen more of a sign of strength.
Look dude, let's face it, everyone makes mistakes.  Like all the time.  It's a part of life, there is no such thing as perfection.  When you screw up or spill something on someone's shoes or get into a fight, apologize.  It's the right thing to do.
Don't Be That Guy
Nobody is saying you have to be someone that everyone likes all the time, especially me.  I say it's fine if some of the people in your life don't like you some of the time, it means you're doing it right.  You're doing your own thing and not everyone is always going to agree with that.
On the other hand if you find that no one likes you ALL of the time, maybe you should do a little introspection and see if you can figure out what.  Some of the reasons above may be why you are asking yourself "why don't people like me".  Cuz being liked some of the time isn't a bad thing.
I like you,
Mat A.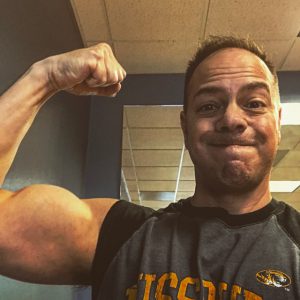 Please follow and like us: